Media | Centre in the news
Centre in the news
Raschkowan Lecture Series
The International Centre for Youth Gambling in conjunction with the National Council on Problem Gambling (NCPG) present the Raschkowan Lecture series titled "Gambling in the Digital Age, 2.0" The webinars are free but registration is required.
The list of presenters includes:
October 20, 2022 - Dr. Heather Wardle
November 17, 2022 - Dr.Michael Wohl
February 2, 2023 - Dr. Rachel Volberg
March 2, 2023 - Dr.Daniel King
For more information and to register, visit www.ncpgambling.org/raschkowan.
2022 Durand Jacobs Award Winner
It is with great pleasure that we announce that the recipient of the 2022 Durand Jacobs Award is Ciara Cannoy for her manuscript titled " Response to Health Warnings on Cigarette Packs as a Predictor of Future Smoking Among Current Tobacco Smokers." The Durand Jacobs Award recognizes outstanding work related to the psychology of addictive behaviors, and is dedicated to the late Dr. Durand Jacobs' lifelong efforts to help mentor students. Congratulations on behalf of all of us at our Centre!
Awards
Dr. Derevensky Receives the NCPG Lifetime Research Award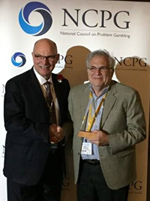 On July 21, 2017 at the National Council on Problem Gambling (NCPG) conference in Portland Oregon, Dr. Derevensky was awarded the Lifetime Research Award. This award is given to honor a person for exceptional long-standing achievement in the field of gambling research that has had a profound impact on the study of gambling. This award is only bestowed in exceptional times and circumstances, to individuals who exemplify at least twenty years of research in the field of gambling studies.
Dr. Derevensky Named James McGill Professor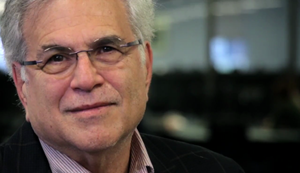 The Faculty of Education at McGill University is pleased to announce that Professor Jeffrey Derevensky has received the prestigious James McGill Professor Award. Created in parallel with the federal Canada Research Chair (CRC) program, the James McGill Professor Award recognizes a tenured scholar's status as an "outstanding researcher of world-class caliber and an international leader in his or her field similar to that of a CRC Tier 1 chair holder."
Centre Fundraising Campaign in Full Swing
The Centre's ongoing fundraising campaign continues to grow with the support of corporate and private sponsors. Due to restricted government infrastructure funding, we have initiated a fundraising campaign to help us maintain our ability to develop and deploy empirically-based prevention and harm-minimization programs. The Centre is housed on McGill University's main campus in the heart of Montreal, Canada. McGill University is a public university and recognized charitable organization Donations can be made to:

The International Centre for Youth Gambling Problems and High-Risk Behaviors

McGill University
3724 McTavish Street
Montreal, Quebec H3A 1Y2

Official letters of contributions and tax receipts will be forwarded.
Dr. Derevensky on Frontline
On February 9, 2016, Dr. Derevensky appeared on the PBS Frontline show discussing Daily Fantasy Sports. Watch the trailer here. This is a followup to the New York Times story from October 2015.
Dr. Derevensky Interviewed by the New York Times
Dr. Derevensky is quoted in the October 15, 2015 edition of the New York Times in an article concerning Fantasy Sports. Read the complete story here.