Prevention | Video and multimedia contest winners
Video and multimedia contest winners
Here's a New Take on Gambling: Yours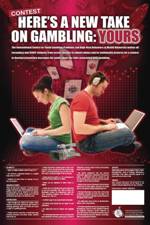 Multimedia Contest Results
The International Centre for Youth Gambling Problems and High-Risk Behaviors at McGill University is pleased to announce that a group of Secondary IV and V students from Evergreen High School in Chandler, Quebec are the grand prize winners of the 2008 Multimedia Gambling Prevention Contest, while a team from Bialik High School in Cote St. Luc, Quebec received honourable mention.
The winning team put together a thought-provoking montage of scenes of young people discussing their gambling-related problems, set to original music. The team members are Mike Bujold, Jerome Martin, Stephen Moynihan, Jessica Jalbert and Sabrina Cormier. The team received a gift certificate worth $500 to use towards purchases at an electronics store.
Grand Prize Winners: Evergreen High School - Chandler, Quebec
---
The honourable mention team from Bialik High School featured Riva Bruck, Lisa Komlos and Michal Friedman. Their production depicted the pain and suffering that can result from youth gambling problems. They received a $150 gift certificate to use towards purchases at an electronics store. Both of the winning schools also received plaques celebrating their students' accomplishments.
Honourable Mention: Bialik High School - Cote St. Luc, Quebec
We congratulate these winners and thank all of the other entrants from across the province who participated in this contest to raise awareness about youth gambling problems.